From Egypt via the German Alps directly to sunny Florida! 
Brilliant turn of the year – in December 2018 the Light Drummers performed in the heart of Cairo for the 15th anniversary of BMW Egypt. The gala evening took place at the riverside of the Nile in the Ritz Carlton Hotel with a lot of celebrities. Also the daughter of the Egyptian president was among the guests.
On January 2nd, 2019 our team travelled by nightliner coach from from Cologne to Bad Reichenhall for the 50th jubilee of the ice rink Königssee. The celebrations took place outdoors, so our team had to face an outside temperature of minus 5 degrees celsius including a snowed-in stage.
Despite the icy snowdrifts, it was a very warm-hearted event of the German Bobsleigh and Sled Association. The powerful drum beats and virtuoso light effects of the show heated up the audience and ensured a successful live-entertainment with three appearances.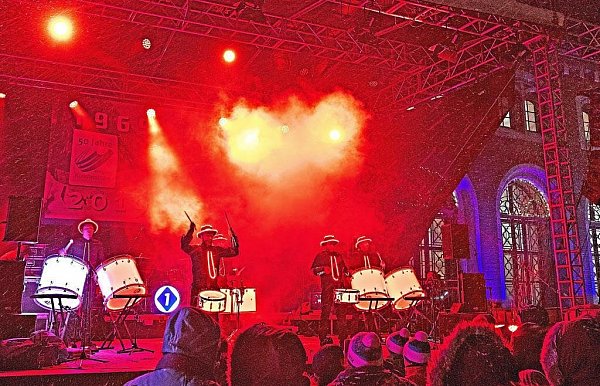 Immediately afterwards, our crew travelled overnight to Frankfurt Airport. In the morning there was already back-up waiting from more of our drummers. All together they flew out into the warm south of the United States of America. Next stop – Orlando, Florida.
In total 11 Light Drummers including 5 Flying Drummers rocked the house of the Orange County Convention Center. Cause of the exiting event was the summit of a major worldwide operating software company. Partly we rehearsed outside at the back of the hall which was really pleasant regarding the perfect temperature of 25 degrees celsius.
Show start was scheduled in the early morning at 8:30am on January 7th. With an acapella intro the drummers marched through the aisles close to the 4,000 invited guests and employees. Arriving on stage, the Flying Drummers shooted surprisingly up in the air. A thrilling adventure. Don't miss to watch the video: