The third year in a row we were engaged for the opening ceremony of the Pakistan Super League which takes place annually in the Dubai International Cricket Stadium, UAE. Initially, we staged our Flying Drummers as stunning opening act for the year 2017. In the following year we performed with advanced performer flight systems and realized various 2-dimensional and 3-dimensional aerial acts.
In 2019, the aim was to enhance the images of the live-broadcast. Therefore, the show concept focussed on a combination between the live feed and AR-effects. With regard to the realization, the core team had to face different challenges.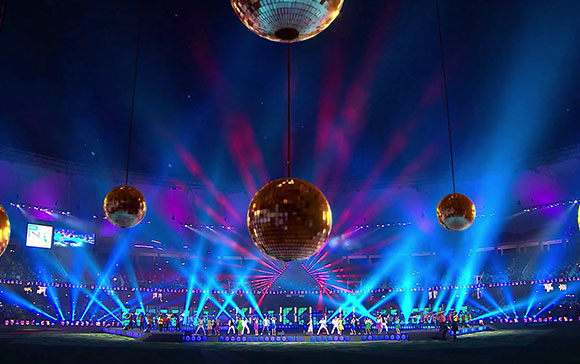 The opening ceremony is a very spectacular event that is broadcasted worldwide. Many different artists are involved to make this show outstanding. This year, over 150 dancers, superstars like Boney M. and the Pakistani popstars Lima Bang and Junoon participated. Our main task was to handle the stage management and a smooth show flow. All acts were set seamlessly without any break, thus it required a lot of organizational skills and precise stage calls to ensure the perfect show run.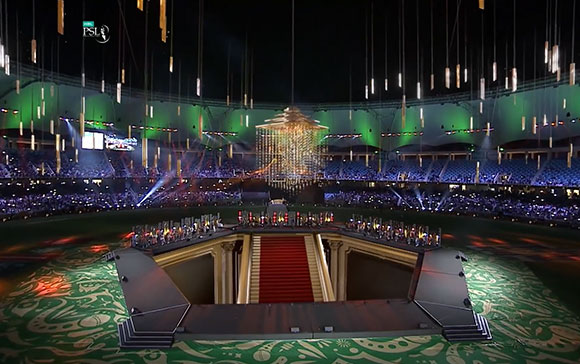 In addition, the creative director Samer Feghali had to figure out the right balance between the original scenery and augmented content. The computer generated images needed to look still real and authentic. The virtual designers created 12 individual sequences which got implemented in the 45-minutes broadcast. Definitely a milestone in the history of AR-effects.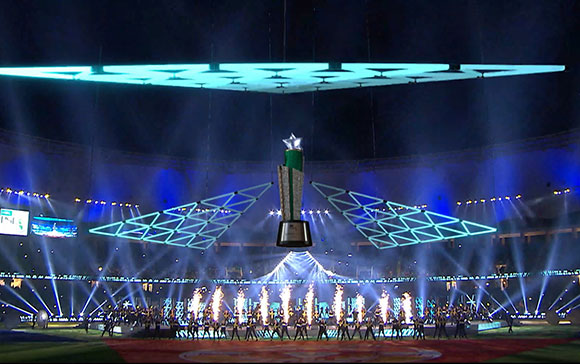 In fact, the PSL 2019 opening ceremony seems to be the largest augmented reality show ever done so far. The whole stadium has been transformed into a magical scenery. The virtual effects widened up horizons of the spectators: A giant futuristic mascot landed in the middle of the field, F16 flew in the sky, the musical acts were framed by various sceneries, with a broad visual range from psychedelic flower power to disco or ballroom surroundings.
Just have a look at the showreel which includes even more scenes from events that we have staged in the middle east: