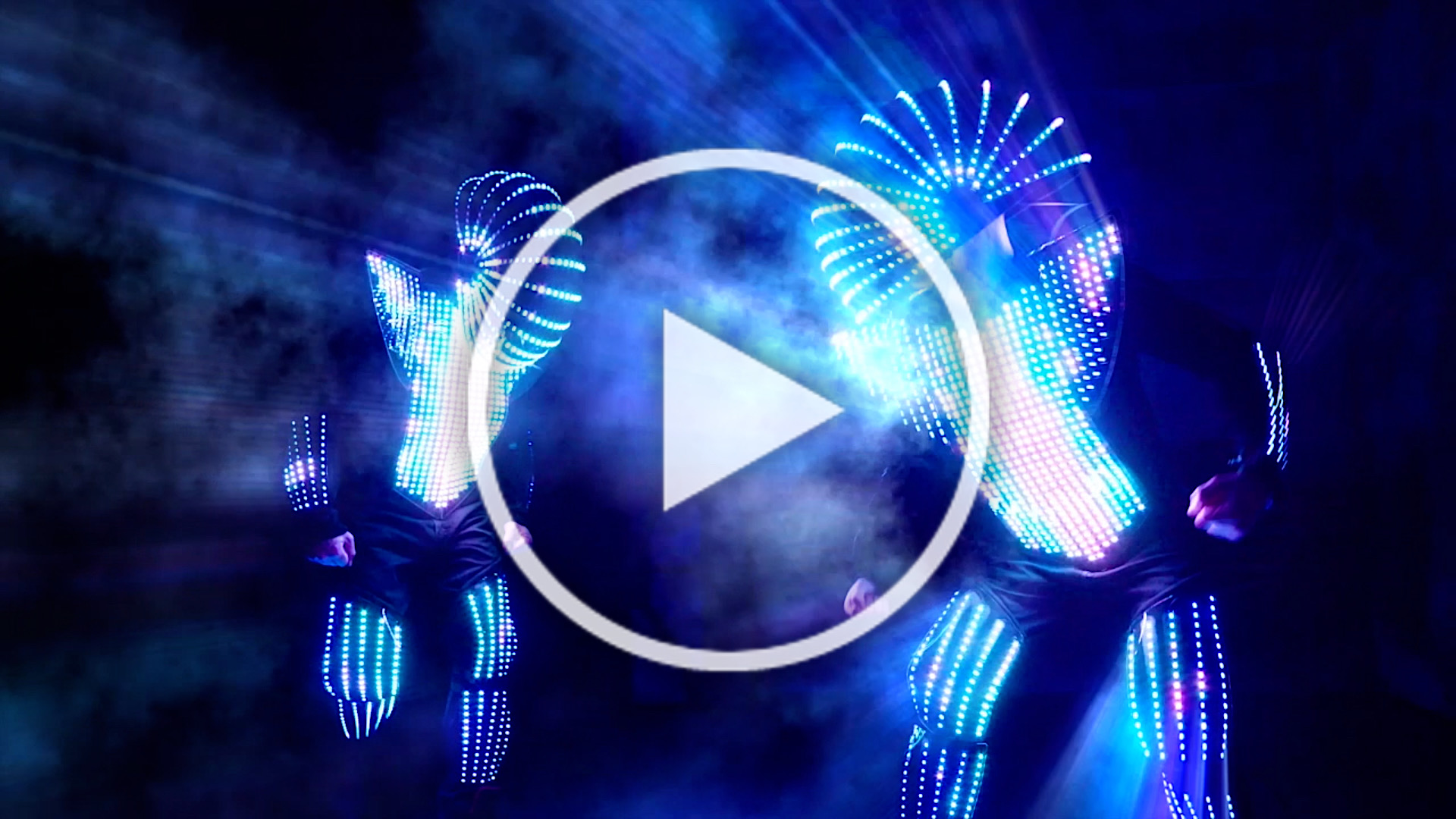 Impactors @ EMO 
For the opening ceremony at the world's leading trade fair for metal and mechanical engineering, called EMO, we tailor-made an artistic performance. The focus of the exhibition and the show concept was on digital presence. After creative brainstorming and intensive exchange of ideas, the choice fell on the IMPACTORS.
The idea: Two performers symbolize humans surrounded by technology in the work process. The actors are equipped with LED diodes on the body, but the head and face remain visible. The other two actors act as a digital twin and are accordingly dehumanized and futuristic with a full body suit including a helmet.
The interaction between human and technology is artistically reflected in the interaction between live performance and virtual content. The "digital twins" were recorded as a pre-production in a black-box and on a green screen and precisely linked to the motion graphics on-site during the production. While the staging, the images step out of the cinematic scene onto the stage and awaken to life.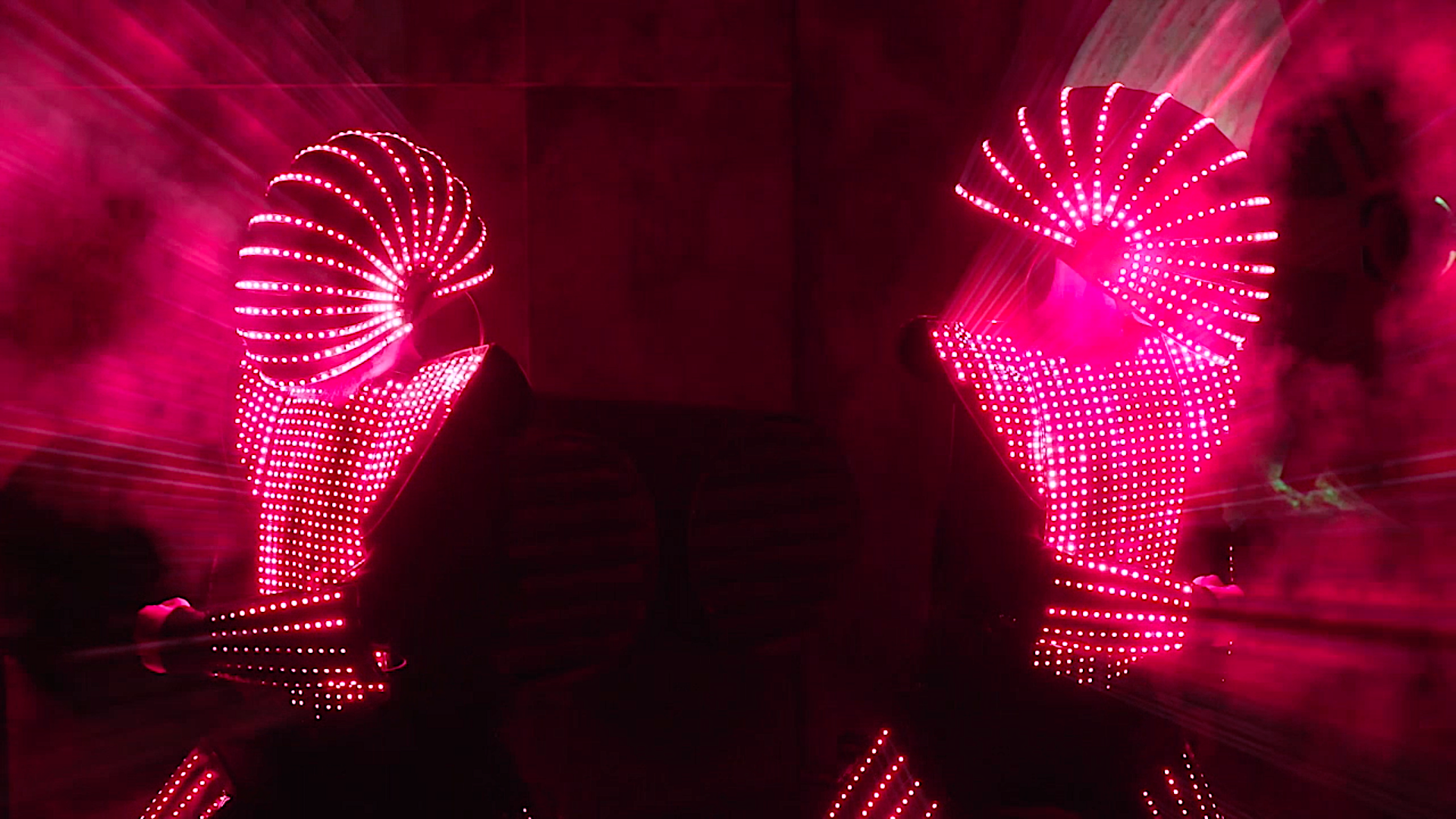 Impactors @ Audi Race Night 2019 
A close-up experience for the guests at the Audi Race Night in Neuburg a.d. Donau. As if sent from an another world, the IMPACTORS suddenly emerged from the darkness on the terrace in front of the AUDI Driving Experience Center. The futuristic figures entered the room with excitement and made the audience spellbound. This was followed by a dance choreography in close proximity to the audience.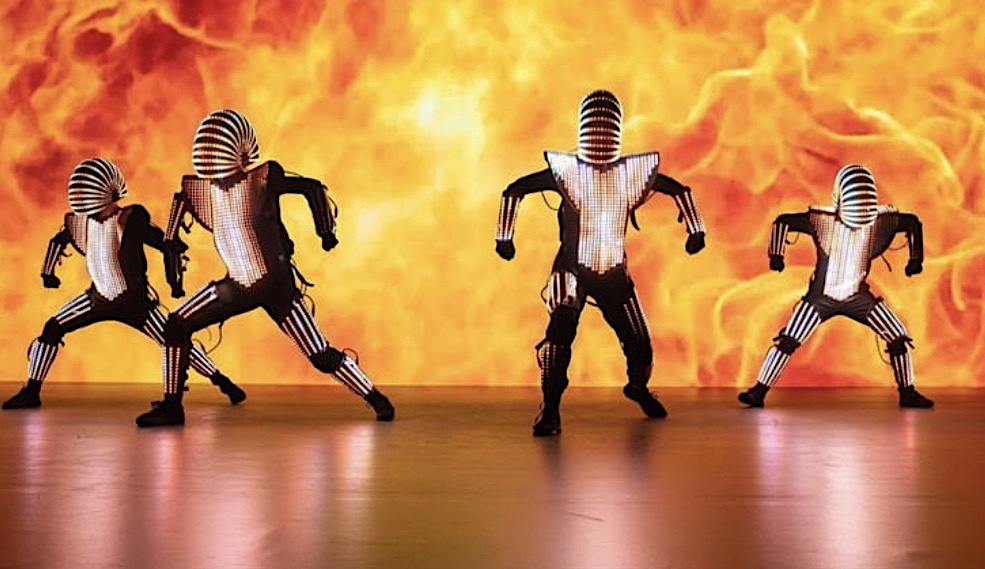 Impactors @ Stampin' Up! 
For a customer like Stampin' Up, who defines himself through creativity, different colors and pattern worlds, the IMPACTORS show was the perfect start for the evening event of the Germany Congress.
To match the event, we created a variety of light and video effects in different colors and moods using pixel mapping on the individually controllable LEDs. With synchronized background visuals on a LED wall, we supported the varied image worlds across the stage. In addition, live images were transmitted on the numerous screens in the room, so that multiplied levels were created.
Accompanied by the thunderous applause of the predominantly female audience, the company name "STAMPIN' UP!" surprisingly appeared on the costumes.